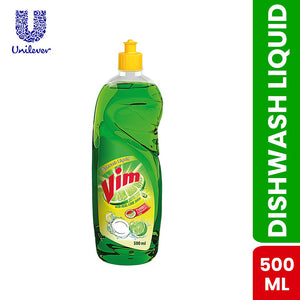 Product Description:
Key Features
Turbo De greasing Lime formula
Vim liquid gives you a pleasant cleaning experience with its refreshing lemon fragrance
Does not damage the surface of delicate cookware
Tough on stains, gentle on your hands
Great lather enabling a great cleaning experience
Powerful formula enables a quick & easy clean
No residue as it is 100percent soluble
Superior fragrance enabling a pleasant wash experience
How To Use
Step 01  Take a teaspoon of Vim Liquid
Step 02  Dilute it in 40ml water
Step 03  Soak the sponge in the mixture and create a generous amount of foam by squeezing out water.
Step 04  Give all the kitchenware a superior clean.


Ingredients
Active ingredients 14.5percent
Contains biodegradable chemicals Ingredients are Non-Toxic, Phosphate free, Environment safe
100percent soluble


Warning Instructions
Use a diluted solution for dishwashing
Best before 24 months from MFD
Wash hands after use

Vim Liquid contains the turbo degreasing power of lime which cleans a mountain of dishes with one spoon. It is highly efficacious in comparison to most other competitor liquids. Vim liquid is ideal on melamine, glass, plastic, stainless steel substrates. This mild on hands formula does not scratch kitchenware and provides great value for money as it cleans twice as more kitchenware in comparison to the same amount of dishwash bar.
                                   Source : https://www.ustore.lk