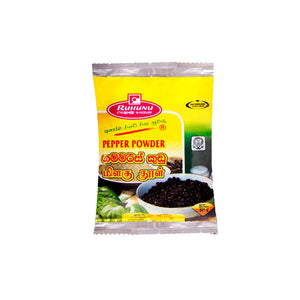 Product Description
Ruhunu pepper powder 50g is made with the finest  fresh quality peppercorns and is completely free from additives.
Use to colour, flavour and add nutrients.
Adds a mild flavour to curries and sauces.
Can be used in place of Saffron is some recipes.
100% pure & premium quality.
Home Blended Pepper Powder
No Artificial additive Colors or preservatives.
Carefully handpicked, cleaned, prepared & packed to meet the highest international organic standards.
Source: 
https://www.ruhunufoods.com