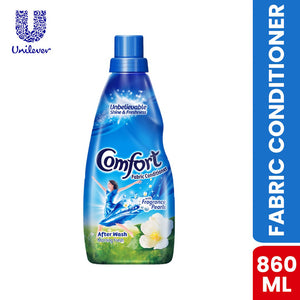 Product Description
Key Features
Gives Unbelievable Shine to Clothes
With Fragrance Pearls for Long Lasting Freshness
Makes Clothes soft  smooth & great to wear
How To Use

Hand Wash
1. After detergent wash, add half a cap of Comfort in a bucket of water (5L)
2. Soak up to 10 washed clothes in a bucket containing Comfort for 5 minutes
3. Remove clothes & dry 
(Do not rinse clothes in water after using comfort)
Machine Wash
Front Load 
Pour 1 cap of Comfort to the softener compartment  at the same time as you add detergent.
Top Load & Semi-Automatic
Pour 1 cap of Comfort directly in the washing tub in the last rinse cycle.
This special fabric conditioner leaves clothes feeling soft, smooth and great to wear while also providing a feeling of freshness and caring for your clothes.
                                                          Source:  https://www.ustore.lk