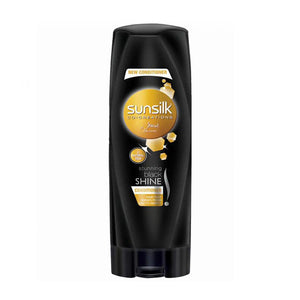 Product Description
 Key Features
Shiny hair gives you a boost of confidence

Sunsilk stunning black shine shampoo has been co created with Jamal Hammadi

It is enriched with amla pearl complex energizers to give deeper, shinier hair from the first wash

Its special amino acids have really small molecules which easily penetrate into the hair, while the UV protectors lock in moisture, keeping out humidity and static

Leaving you with stunning black shiny hair, every day
How To Use?
Step 1 Place a small amount of the conditioner, equal to the size of a coin, on your palm.
Step 2 Apply it on your hair by running your fingers through them starting from the root and all the way down to the tips.
Step 3 Leave the conditioner on your hair for a minute then rinse it off well.
The Sunsilk black shine, smooth and tangle free nourishing conditioner is enriched with the goodness of amla pearl complex and energizers to give you shiny, lustrous black hair from the very first wash.
Co created with Sunsilk expert Jamal Hammadi, this conditioner has UV protectors and special amino acids that easily penetrate to the deepest hair roots to lock in moisture and keep humidity and static out. Nourish your hair with its advanced formula and maintain your hairs black sheen. 
                                                          Source:  https://www.ustore.lk