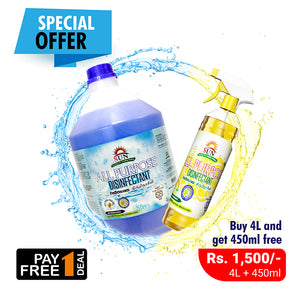 Buy Sun All Purpose Disinfectant Ice Pine 4L, Get Free Sun All Purpose Disinfectant Spray Lemon 450ml
Product Description

Widely used to disinfect,
Hard and soft surfaces
Your home, office premises & public areas
Hands & personal accessories (bags, shoes, clothes & etc.)
Door Knobs & table tops
Caution: External use only.
Flammable: Keep away from sources of ignition. Avoid contact with the eyes & broken or irritated skin. If the product gets into the eyes, rinse with plenty of water or eye wash solution for 15 minutes or get medical attention if irritation persists.