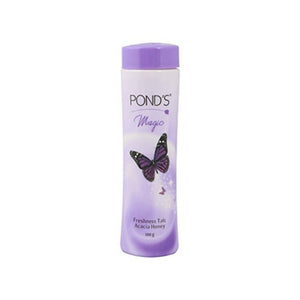 Product Description:
Infused with fragrance of Acacia Honey, that gives you an instant burst of freshness.
Perfect for summers suitable for both men and women its fresh floral formula fight body odour and bacteria.

Use a generous amount on your body and face right after the shower in the morning and before going to bed at night for that soothing freshness.

Get the confidence of a fragrant freshness that stays with you through the day with Pond's Magic Freshness Talc!
Source: www.ponds.in