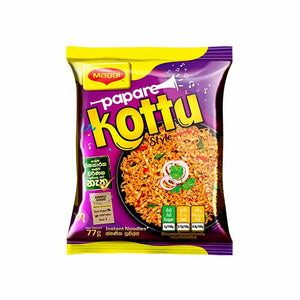 Product Description:
Your at-home solution when your heart craves for a delicious Kottu, MAGGI Papare Kottu Noodles offers the mouthwatering flavors of Sri Lanka's ultimate street food dish with quick convenience! Popular among consumers of all ages,
MAGGI Papare Kottu allows you to skip the queues at the crowded eateries to experience the real flavors within 2 minutes.
Simply mix your favorite vegetables and meat options and taste the pure goodness.
Source: www.maggi.lk